The Evergreen Mountain Area Historical Society offers an authentic experience in a 1920's one-room schoolhouse at Medlen School on South Turkey Creek Road. Built in 1886, the school has been restored in its original location.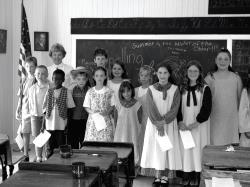 Children who have completed grades 1-6 share in this unique opportunity to:
EXPERIENCE a typical country school with several grades;
LEARN "the four R's" – reading, 'riting, 'rithmetic and recitation – just as children of the 1920's did; and
PARTICIPATE in the games they played, the songs they sang, and the fun they had!
We are happy to announce the following 2023 dates!
Session I: June 6-8
Session II: June 13-15
Location: 8369 So. Turkey Creek Rd.; Morrison, CO
Times: 9am – 12pm
Fee: $30.00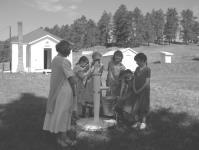 Please contact Jo Ann Dunn at (303) 674-1695 or (303) 503-5978 with any questions, or to be put on the wait list.
Session choice is first come, first served. Social distancing and masking per Jefferson County guidelines will be implemented. Registration confirmation and legal release will be mailed to you.